Welcome to Pinup Studio. Conveniently located in North Raleigh, in the Peachtree Plaza.  Winner of numerous awards, including WRAL, Indy Week Top 4, Midtown Magazine, News & Observer, Wake Living, and Nala. We offer the best in many areas, certified in Brazilian Blowouts, Balayage, and your everyday fashion shades. We can create the hair of your dreams! All of our hairstylists have well over five years of experience and are here to serve you. Read each profile and pick your favorite stylist! We look forward to meeting you and serving you.
Haircuts and salons have come a long way since first becoming popular in the 17th century. Since the 17th century, hairdressing has been considered a profession that attracted wealthy women. Over the years, stylists have created popular styles such as the bob, the beehive, and of course, we can't forget the pixie cut. Perhaps you were more of a fan of the 90's "poof" style.  That same style deceived a multitude of people about a woman's specific height. She could be 5'1, but with her hair, she was now an amazing 5'7!  Can we just forget the perm phase? If you have never experienced these styles, some would consider you a lucky person. Hairstylists have migrated over to becoming hair artists. Modern hairstyles are so much more than just a simple cut. We are designing a new you; a transformed you. 
Being a hair artist is about more than just knowing how to cut hair. Our stylists are professionally trained to be experts in all hair types. If you have unmanageable curls that need to be tamed more than a toddler's temper tantrums, we are your go-to. We understand that you may have neglected your hair. We hunt down the split ends and eliminate them like a bad attitude! 
Is your hair dry, brittle, and unmanageable? Is it easier to throw it up in a ponytail or messy bun? Come visit us. Let us help you discover a more easily manageable hairstyle that is guaranteed to fit your specific lifestyle. 
Long luxurious locks? Why settle for a simple trim? We can keep your long locks and give you a style that is guaranteed to knock their socks off! Give us a call today, and let us transform your look into a new fashion statement! 
We are a one stop shop for all your beauty needs. Specializing in all things color, cuts, Brazilian Blowouts, updos, lashes and makeup. One step into our Pink Paradise and you will walk out feeling like a whole new you.
Business Overview Of PinUp Studios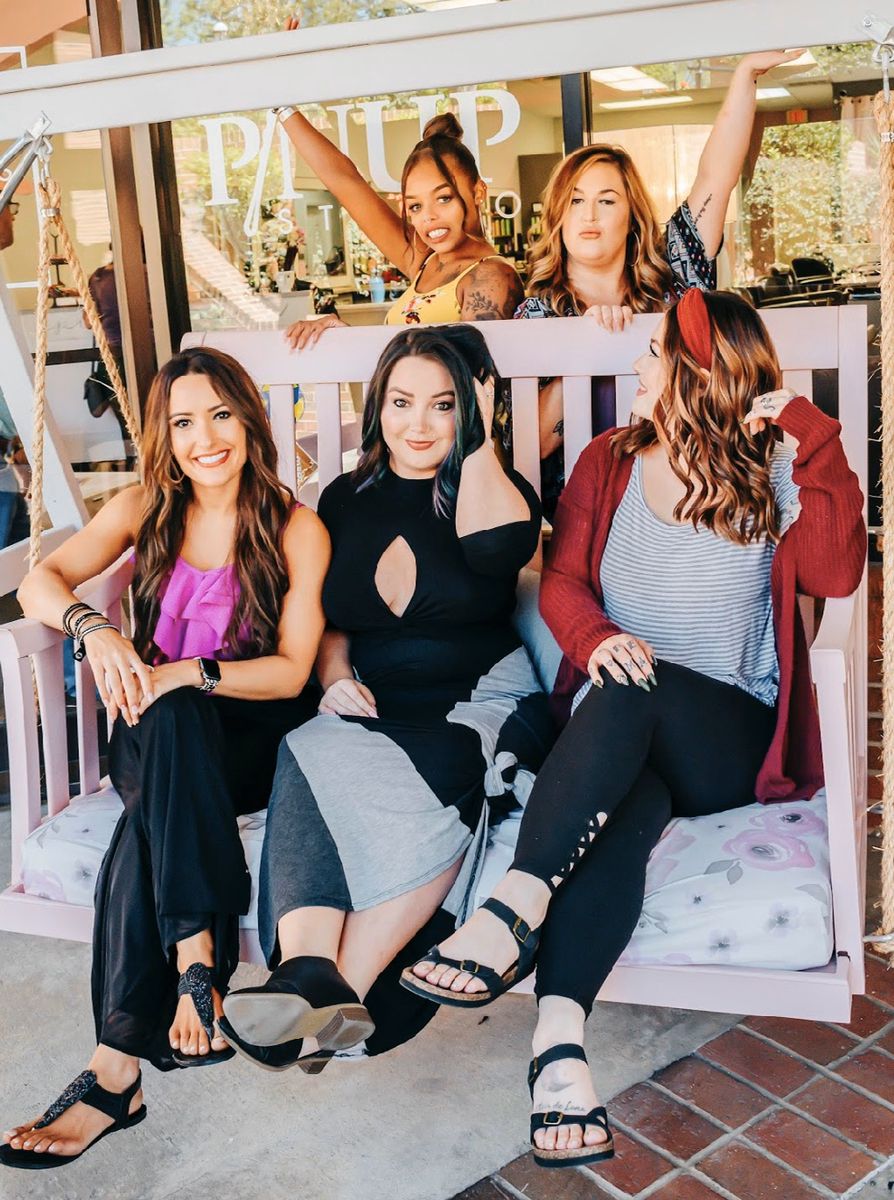 At Pinup Studio we have created a judgement free zone for ALL women to come as they are. Knowing that as soon as they walk through our doors you will feel welcomed, heard and cared for. While in Pinup you should feel at home and pampered leaving you feeling rejuvenated and ready to take on the world like the bad ass woman that you are. We have created a place filled with strong stylists who believe in giving back to our community and instilling confidence in every woman. Queen B said it best "Who run the world? GIRLS!"
When you are here at Pinup Studio, YOU run the world! All of our services revolve completely around you! This is your time to feel pampered and relaxed while we take care of your hair, makeup, or any other services you may need. It is your time to let yourself relax and do something for yourself for once. We have set up our entire salon floor to be a wonderfully relaxing space for you to just sit back, relax, and enjoy our services. Pamper yourself with our high-quality services from talented artists and stylists! Whatever services you desire, from makeup to hair, our team is here to deliver exactly what you need. 
Here at Pinup Studio, we offer many different types of services that are perfect for every occasion, from a fun night out with friends to your very special wedding day. Our expert staff is here to make any day into your own personal fairytale. With our services, you can feel like the Queen we know you are. 
Some of the quality salon services we offer include:
Haircuts Raleigh, Styles, Extensions, and Color Services
Makeup Services and Eyebrows Raleigh NC
Our expert Raleigh makeup artists are here to give you everything you need, from lash extensions to brow work to a full "just because" makeover. 
When you choose Pinup Studio for your lash extensions Raleigh NC, you are choosing the best makeup artists and lash experts in the area. Our artists do not simply learn a task and say they know everything and have no more room to grow. Every single one of us continues to learn and grow in our craft every single day. That is how we know that we can offer all our clients exactly the services they want and need. When you are looking for a makeup artist in Raleigh NC who truly cares about each and every customer that walks in the door, you just have to look right to Pinup Studio. 
When you come in for any of our hair-related services, you will receive the best care from our staff that you can find from any Raleigh, NC, or Cary hair salons. If you are looking for a fresh new color, or a touch-up for your existing color, our hair color experts Raleigh are here to give you beautiful color and the best customer service experience around. Whether you are looking for a simple haircut Raleigh NC or a brand new style, our stylists are here to deliver exactly what you want and need. When you are looking for the best hair salons in Cary NC and the surrounding areas, look no further than Pinup Studio. If you absolutely loved one of the products our stylists used for your hair, check out the "shop" tab above. Many of the products we use and sell are listed there for purchase. Give your hair a little bit of extra Tender Loving Care with our cut, color, and style services, followed by at-home care with some of your favorite products from our shop.  
Our expert makeup artists Raleigh NC are here to deliver all your makeover needs. Whether you want a simple everyday look or a fun new style for a night out with the besties, our team is here to deliver. When you choose a Raleigh makeup artist at Pinup Studio, you can be confident you are in the best hands. 
Know More About Portable Makeup Products.
Is it almost time for your big day?  The date is set. You have your wedding dress. The bridesmaids are ready with their dresses. You've had your bachelorette party with the girls. All that's left is hair and makeup for the big event. Don't stress. Pinup Studio is here with all you could ever need for your makeover before you walk down the aisle.