The Raleigh NC area is home to many high-quality hair salons and stylists.Choosing the right option for you can be challenging given the abundance of options. Whether you're looking for a classic cut or trying out the latest styles, there's something for everyone at hair salons Raleigh NC, like Pinup Studio.
When searching for the best Hair Salons Raleigh NC has to offer, it's important to consider your individual needs. From traditional cuts and styling services to more modern trends such as balayage and ombre, each salon offers its own unique variety of services. Many salons also specialize in particular hair types or textures, making finding the perfect match a breeze.
Do you need color services? Many salons offer a variety of coloring options, from highlights and lowlights to full-head dye jobs. If you're looking for something more permanent, consider going to one of the best hair salons Raleigh NC that specializes in treatments like keratin or blowouts.
No matter what service you're searching for, our Pinup Studio hair salon Raleigh NC is sure to meet your needs. With so many talented stylists and top-notch products, local salons have something to offer everyone who wants to look their best. So when you're ready for a new style, visit Pinup Studio, one of the Best Hair Salons Raleigh NC has to offer! You won't be disappointed with our services. Come in today and let us help you look your very best!
Best Hair Salons Raleigh NC.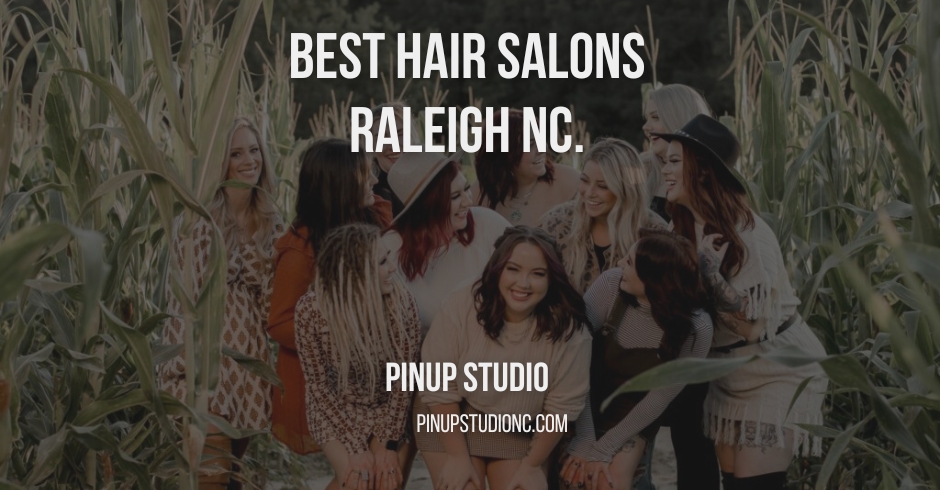 It is only natural that people love their hair and are always looking for the best places to get it done. That is why Pinup Studio, Hair Salon Raleigh NC, is always on the rise and in high demand. With our team of talented stylists and quality products, you can be sure that your hair will look great after each visit. Our wide array of services includes everything from simple trims and color treatments to more extensive services! With us, you won't just leave with a great cut but with an unforgettable experience as well. We offer all kinds of haircuts from dramatic pixies to classic bobs as well as highlighting and balayage options for those looking for a fresh new look. Plus we also have specialities such as perms and extensions.
We understand that looking good is not just about how you look on the outside but also how you feel on the inside. That's why we strive to make sure each salon experience is one of relaxation and self-care, leaving you feeling refreshed and beautiful. Whether you're looking for a new style or just a quick touch up, let Pinup Studio Hair Salon Raleigh NC help you get the perfect look every time! Come in today and see what sets us apart from other hair salons in Raleigh NC! We guarantee you'll leave feeling pampered and looking fabulous!
We only use top-of-the-line products to ensure the best results for our clients, which is why we're known as one of the Best Hair Salons in Raleigh NC. Our team will provide you with a high quality experience that leaves you looking and feeling your absolute best. We take pride in our work and are committed to helping you achieve your desired look.
We understand that finding the right salon can be difficult, so let us help make it easier with our team of experienced stylists and quality products. Whether you want something classic or a dramatic transformation, we'll work with you to find the perfect style for your individual needs. Our experts are up-to-date on all the latest trends and techniques and will guide each step of your process with care and precision. So come stop by and get a new cut or color treatment today! We look forward to seeing you at Hair Salon Raleigh NC!
How To Tell A Good Hair Salon Raleigh NC?
When it comes to your hair, finding the right salon can be a difficult and expensive endeavor. With so much at stake – from styling options like color and cut to overall appearance – it's important that you find someone who truly understands what makes you look your best. Investing in yourself has never been more rewarding!
At PInup Studio Hair Salon Raleigh NC, we understand the importance of feeling confident and beautiful. We are committed to providing a personalized service that caters to your exact needs and requests. Our team of experienced stylists is always up-to-date on the latest trends and techniques, so you can be sure that you're in good hands. We strive to provide an environment where our clients are comfortable and relaxed as they enjoy their hair transformation.
If you're looking for the right stylist, make sure to run through this checklist before choosing someone who might just leave you with a tepid response. With these tips in hand, say goodbye to unsatisfactory service and hello to your perfect locks!
1) They take your opinions to heart.
Taking the plunge into a new hair styling experience can be daunting! You're entrusting your mane to someone completely unknown, only backed up by reviews read online. It's an anxious exercise in faith and trust—but that trepidation quickly fades when you meet with the perfect stylist who will exceed your expectations every step of the way. Finding a stylist that truly understands your style can be difficult. To make sure you find the perfect fit, look for someone who is genuinely interested in getting to know what you like and taking time to consider which looks might work best for you.
2) Their prices are reasonable.
Many people opt for cheaper salons without taking into account how long it will last or the quality of service. Consider the cost and ask yourself if you're willing to pay for a higher-end experience. You might find that prices vary considerably from one salon to another, so don't be afraid to shop around for the best deal. However, one must be careful when checking based on prices, if the price for a hair service seems too good to be true, then it probably is, be careful.
3) They provide in-depth information on each of their services offered.
Once you and your stylist get to know each other, they can take style cues with just a glance. Until then, be sure that they are guiding you through every step of the process – from blending color to adding definition around your face! They'll even show how their special glossing technique will finish off your look perfectly during washes and blowouts. Pinup Studio Hair Salon Raleigh NC strives to provide clients with the best possible experience, both inside and outside the salon chair. We want you to leave feeling like a million bucks!
4) They use quality products.
Make sure the salon you choose uses professional products that won't damage your hair or affect its color and texture in a negative way. Ask to see their product labels, read the ingredients, and make sure they have good reviews online. If possible, ask for a sample of the product before getting any services done to test it out on your hair first.
5) They are not judgmental.
Not only do they never judge, but they also always accept and embrace you for who you are. Step into the stylist's chair and let yourself be whisked away from all your troubles. Whether you prefer to remain silent or share stories of your day, they'll greet you with an understanding ear – no matter what state their client is in! Together, enjoy a judgment-free oasis where stress immediately melts away as soon as that salon seat cradles its comfort around you.
6) Their staff are friendly and knowledgeable.
The professionals at the salon should be friendly, polite and helpful from start to finish – from answering questions about services to helping you find what style best suits you. The stylist should also be trained with reputable certification standards so that you can trust them with
7) The atmosphere of the salon is welcoming.
A good hair salon should be a place you feel comfortable in. Look at pictures of their work online or visit the salon in person before making an appointment. Ask around about what other customers think and decide if this is a place where you can relax while getting your hair done.
8) They will exhibit extensive knowledge.
Do they specialize in certain types of cuts? Are they experienced with color treatments? Take note of the years of experience the stylists at a salon have and see if they are up to date with their skills. It's important to find a stylist whose work you trust in order to get the best results.
9) They have unmatched customer Service.
The people working at a hair salon should be friendly, helpful and willing to listen to your needs. If they seem indifferent or disinterested, it could leave you feeling uneasy about having them do your hair. Look for salons that offer complimentary beverages and snacks while you wait, as well as thank-you gifts after your appointment is complete.
At Pinup Studio, we want you to feel pampered and appreciated every time you visit. Our Hair Salon Raleigh NC is dedicated to making sure you are completely satisfied with your experience. We are proud to be one of the best hair salons in Raleigh, NC and we strive to offer the highest levels of customer service while providing you with excellent results.
From trendy cuts and colors, to special event styles and more, our professional stylists will make sure you look amazing. We understand everyone's individual style needs and preferences, so we take the time to consult with each guest before their appointment to ensure they get exactly what they desire. Whether you're looking for a subtle change or something more dramatic, we have the products and knowledge necessary to deliver beautiful results every time. Come experience why Pinup Studio is quickly becoming one of the best hair salons in Raleigh NC.
Our experienced staff is trained to provide styling services that meet the highest standards of quality while ensuring client satisfaction. We use only the finest quality products to ensure our guests achieve their desired style with minimal effort. We also carry an array of luxury beauty brands so you can take home your favorite products and keep up with your salon style
Why Pinup Studio is the ideal Hair Salon Raleigh NC.
Pinup Studio is more than just a hair salon — we offer complete beauty treatments for all of our clients, from manicures and pedicures to waxing, facials, and lash extensions. We strive to make every visit comfortable and exciting for each woman who visits us. And as one of the Hair Salons Raleigh NC has to offer, you can trust us to find the perfect style for you. Whether it's a trim or a total transformation, our team of experienced stylists will work with you to ensure that your look meets your needs. Your hair will always look and feel its finest since we only use the greatest products.
If you're searching for the Best Hair Salons Raleigh NC has to offer, look no further than Pinup Studio! Our team of professionals is ready to help you find the perfect look that makes you feel confident and beautiful-whatever it might be! We look forward to seeing you soon at our Hair Salon in Raleigh NC! Schedule an appointment today and let us help you build up your confidence and show the world your beauty! With our experts always being on the loop, we are certain that you will have the best experience possible.
Visit us today for an amazing hair transformation! From foil highlighting to free-hand painting, we can make your wildest hair dreams come true. Our team of expert stylists is committed to giving you a look tailored just for you – one that expresses who you are and makes you feel fabulous!